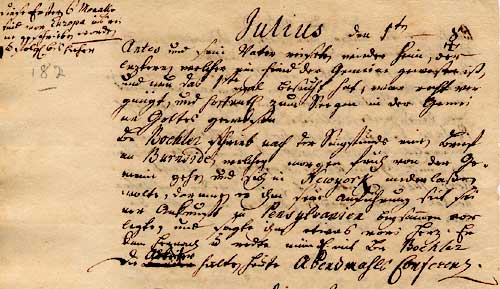 Source document location: Moravian Archives - Bethlehem, Pa.
Bethlehem Diary, Volume II
Wednesday, July 1
Antes and his father left for home again; the latter, who has been an enemy of our congregation and has now visited it for the first time, spent his stay in the congregation of God in good spirits and, we hope, with blessing. After the Singstunde Br. Boehler wrote a letter to Burnside, who planned to leave the congregation tomorrow morning and make his home in New York; in it he put before him a summary account of his behavior since his arrival in Pennsylvania and added some helpful advice. Later he came and communicated orally with Br. Boehler. The Workers held a Communion conference today.