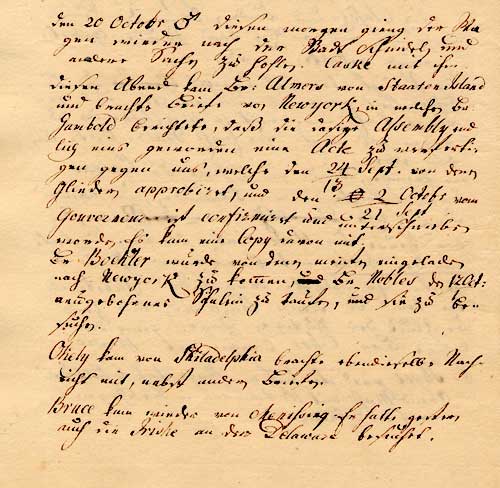 Source document location: Moravian Archives - Bethlehem, Pa.
Bethlehem Diary, Volume II
Tuesday, October 20
The wagon left again for the city this morning to get shingles and other items. Caske went with it. This evening Br. Almers came from Staten Island and brought letters from New York, in which Br. Gambold reported that the Assembly at that place finally had agreed to prepare an act directed against us. It was approved by the members on September 13/24 and confirmed and signed by the Governor on September 21/October 2. A copy of it came along. Br. Boehler was invited by most of our New York people to come there, to baptize Br. Noble's little son, born on October 12th, and to visit them.
Okely came from Philadelphia and brought the same news, together with other letters.
Bruce returned from Menissing. He had also visited the Irish along the Delaware yesterday.