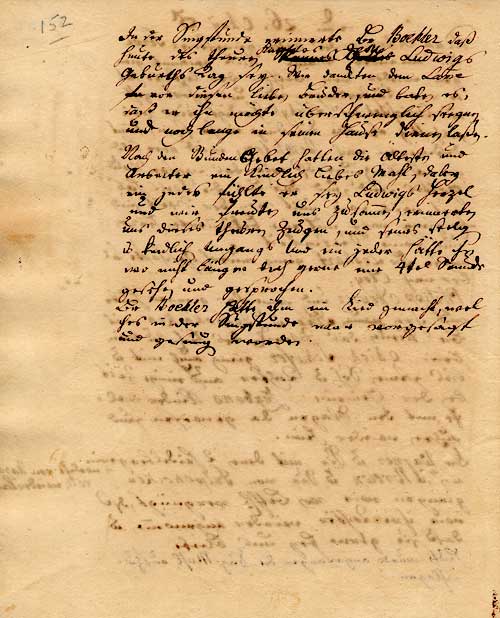 Source document location: Moravian Archives - Bethlehem, Pa.
Bethlehem Diary, Volume II
Tuesday, May 26
Adam Schneider, Antes' former redemptioner, and another man named Kick left Bethlehem again. The latter, having heard many slanders about us, goes to Lischy's preaching out of curiosity, becomes uncertain whether all those things are true, comes to Bethlehem on that account, but soon is convinced that we are the true people of God and that the world hates us because we are not of the world. He left with a heart that was troubled about his salvation. Our Br. Leshart went to Oley to attend to business matters. Philipp Meurer and his wife left today for their charge in Tulpehocken to promote the work of the Savior along with Br. Niecke. Mich. Schaefer went along, also, and left his son and daughter with the congregation for a time. Zerbe's children, who had been here with the wagon, traveled home again. Br. Wagner and his wife along with the two Heidelberg women, who had returned from Nazareth, likewise Brown and his wife from Tulpehocken, left Bethlehem in good spirits because we have again accepted their daughter and she wants to stay with us. Today a beginning was made in setting up the sawmill. In the Singstunde Br. Boehler reminded us that today is the birthday of Ludwig, the beloved servant of Jesus. We gave thanks to the Lamb for this dear brother and besought Him to give him a boundless blessing and permit him to serve in His house for a long time. Following the hourly intercession the elders and Workers held a lovefeast in a childlike spirit, each feeling that he was Ludwig's dear friend. We rejoiced together and called to mind this faithful witness and his blessed and childlike relationships. And everyone would have liked to see him and to speak to him for a quarter of an hour, if not longer. Br. Boehler had composed a hymn in his honor, which was lined out and sung in the Singstunde.