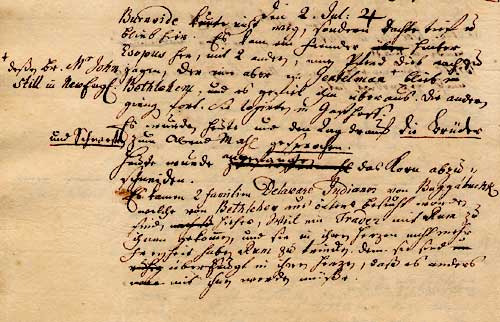 Source document location: Moravian Archives - Bethlehem, Pa.
Bethlehem Diary, Volume II
Thursday, July 2
Burnside could not bring himself to leave, but rather gave the matter earnest consideration and stayed here. A stranger came with two others from beyond Esopus in pursuit of a horse thief. One of them, however, a gentleman, whose brother is Mr. John Still in New England, remained in Bethlehem, and he liked it very much. The others left. They lodged in the inn. Today and the following day Speaking preparatory to Communion was held for the brethren and sisters. Today a beginning was made with cutting the grain. Two families of Delaware Indians from Buggabuchk, who had repeatedly been visited from Bethlehem, came here because a trader had come to them with rum and they no longer feel free in their hearts to drink rum. For in their hearts they are convinced that their situation must change.