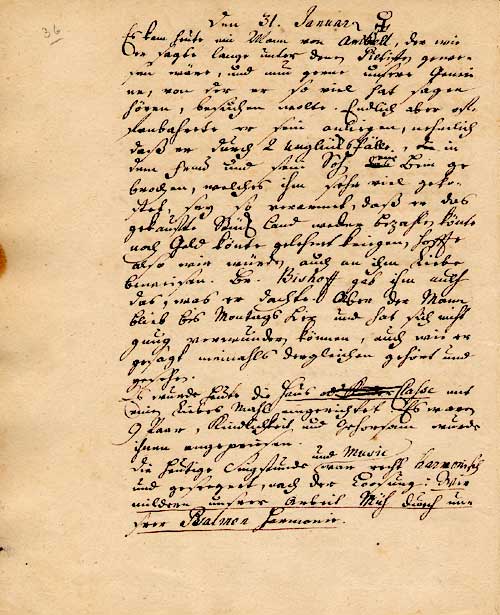 Source document location: Moravian Archives - Bethlehem, Pa.
Bethlehem Diary, Volume II
Friday, January 31
Today a man came from Amwell [spelling uncertain], who, as he said, had long been associated with the Pietists and now wanted to visit our congregation, about which he had heard so many reports. At long last, however, he disclosed his real purpose. He had been so impoverished by two accidents, in which his wife and his son had each broken a leg with very considerable costs to himself, that he could neither pay for the piece of land which he had bought nor secure a loan. He, therefore, hoped that we might show love to him. Br. Bishoff gave him what he thought he needed. The man, however, stayed here until Monday, and his amazement knew no bounds; and, as he said, he had never heard or seen the like. Today the house class was organized during a lovefeast. It was made up of nine couples; they were urged to show childlikeness and obedience. Today's Singstunde and music were marked by great harmony and blessing as was appropriate in view of the watchword: We soften the hardness of our work through the harmony of our psalms.