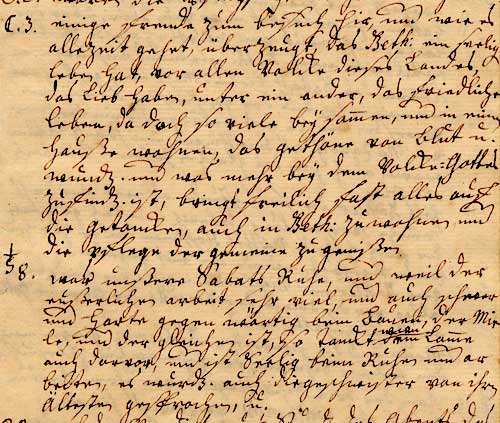 Source document location: Moravian Archives - Bethlehem, Pa.
Bethlehem Diary, Volume I
on Monday, the 3rd, a number of non-Moravians visiting here; and, as is always the case, they were convinced that Beth. enjoys a blessed mode of life superior to that of any body of people in this country. Our mutual love, our peaceable manner of life, even with so many dwelling together and that in a single house, the cadences that proclaim the blood and wounds, and whatever else is to be found among the people of God awakens indeed in nearly all of them the idea that they also ought to live in Beth. and enjoy the tutelage of the congregation.
On Saturday, the 8th, we observed our Sabbath rest. And since we have so much physical work, which is particularly strenuous and hard at present due to the construction of the mill and the like, one gives thanks to the Lamb for this and is happy both when at rest and at work. The brethren and sisters also had interviews with their elders, and [on Sunday, the 9th...from next entry]