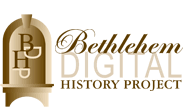 Honored by the National Endowment for the Humanities (NEH) as one of the "best online resources for education in the humanities", the Bethlehem Digital History Project provides Web access to digitized primary source materials, transcriptions, translations and contextual information relating to the early history of Bethlehem, Pennsylvania, 1741 – 1844.
One of the primary goals of this project is to encourage broad or specialized exploration of local, regional and national history. This type of study can be conducted by utilizing the information contained in this site, the vast resources available at various institutions in Bethlehem, as well as the wide array of published works on the subject of Bethlehem's unique history.
The Bethlehem Digital History Project originated in 1999 with a federal Library Services Technology Act grant awarded by Pennsylvania Commonwealth Libraries to the Bethlehem Area Public Library and the Reeves Library of Moravian University and Theological Seminary. Various grants have allowed for the continuation of the project since that time, including a 2006 LSTA grant that is enabling significant expansion of BDHP content focused on women's education at the Moravian Boarding School for Girls in post Revolutionary era Bethlehem.
Sponsors
Bethlehem Area Public Library
11 West Church Street, Bethlehem, PA 18018
Reeves Library • Moravian University and Theological Seminary
1200 Main Street, Bethlehem, PA 18018
Participants
Moravian Archives
41 West Locust, Bethlehem, PA 18018
Moravian Historical Society
214 East Center Street, Nazareth, PA 18064
Historic Bethlehem Partnership
459 Old York Road, Bethlehem, PA 18018
Transcriptions & Translations Barbara Ballard, Katherine Carté, Otto Dreydoppel, Jane Gill, Pastor Roy Ledbetter, Rachel Wheeler Site Design James Talarico, Erica Wolbach Illustration James Talarico Programming & Imaging Scott Piccotti, James Talarico Programming Assistance Michael Preston Technical Support Jim Beers, Paul Edinger, Tom Mondeschein Network Administrator Maria Lucas Technical Assistance Wesley Moser, Patrick St. John Student Interns Jessica Lyscek, Tara Tramontozzi, Erica Wolbach

About the BDHP
Project Manager
James Talarico
Project Committee
Janet Fricker
Beth Fuchs
Jane Gill
Steve McKinney
David Schappert
James Talarico
Project Manager,
1999 to 2004
Julia Maserjian
Consultants & Contributors
Katherine Carté
Otto Dreydoppel
Susan Dreydoppel
Katherine Faull
Melanie Fiske
Pauline Fox
Beth Fuchs
Scott Garrigan
Karen Gartner
Jane Gill
Karen Huetter
Linda LaPointe
Paul Larson
Willard Martin
Julia Maserjian
Vernon Nelson
Paul Peucker
Rosalind Remer
Ralph Schwarz
James Talarico
William G. Thomas
Mark Turdo
Rachel Wheeler