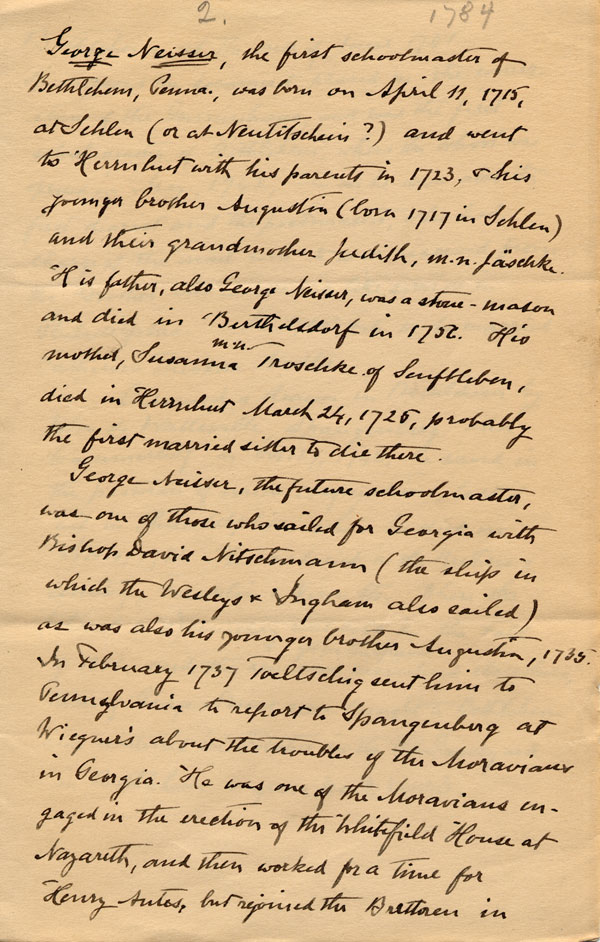 Source location: Moravian Archives, Bethlehem, Pa. Box 4 1781-1790, 1784 folder, #2.
George Neisser, the first schoolmaster of Bethlehem, Penna., was born on April 11, 1715, at Sehlen (or at Neutitschein?) and went to Herrnhut with his parents in 1723, & his younger brother Augustin (born 1717 in Schlen) an their grandmother Judith, m.n. Jäschke. His father, also a George Neisser, was a stone-mason and died in Berthelsdorf in 1756 [?]. His mother, Susanna m.n. Troschke of Senftleben, died in Herrnhut March 24, 1725, probably the first married sister to die there.
George Neisser, the future schoolmaster, was one of those who sailed for Georgia with Bishop David Nitschmann (the ship in which the Wesleys and Ingham also sailed) as was also his younger brother Augustin, 1735.
In February 1737 Toeltschig sent him to Pennsylvania to report to Spangenberg at Wiegner's about the troubles of the Moravians in Georgia. He was one of the Moravians engaged in the erection of the Whitefield House at Nazareth, and then worked for a time for Henry Antes, but rejoined the Brethren in...
Page 1 | 2 |