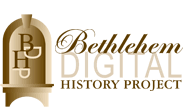 [Title Page]
Recollections of Mrs. Harriet Gould Drake Tinkam: student, 1817
Harriet Gould Drake takes a trip down the Susquehanna River on a raft, and a journey by stage over the mountains from Berwick, Pennsylvania, to Bethlehem, where she enters the Moravian Boarding School, the most fashionable school in the United States.
An interesting description of boarding school life in a village ninety years ago.
Copied from an old newspaper.
Recollections of
Mrs Harriet Gould Drake Tinkam: student, 1817
The Tinkam Recollections pamphlet
is presented as written, in its entirety.
Origin and name of the "old newspaper"
from which these "recollections" have
been republished are unknown.

In 1817, Harriet Gould Drake
of Owego, NY, entered the Moravian
Boarding School for Girls at Bethlehem.
She was the daughter of Judge John R.
Drake, Congressional Representative
from New York, and later, wife to Owego
merchant David Tinkam (alternatively
spelled Tinkham).