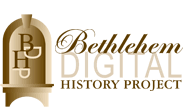 Harriet Allen of Connecticut, Amelia Lavery of New York, Richard Henry Johnson's daughter, Rachel, Eliza Mulligan, Elizabeth Marquand of New York, Elizabeth Olds, and many other pleasant, agreeable, lovely girls were in my set. We could remain until tea time, when we had good appetites for our suppers.
There was a boy's school at Nazareth. Once a year the boys were allowed to have a ride. Sometimes they came to Bethlehem. Of course they visited the girls' school, when they were allowed to go through the school with their teachers and could speak to the girls in the presence of their teachers. It was the season for nutting at the time they came to Bethlehem during my schooldays, and their faces and hands were a perfect sight. They looked as if they had painted themselves like young Indians. They did not make much impression on the girls.
After my first year, my father and mother came from Owego in a two horse wagon. They came in May and remained a week. I was not well, and my father was advised by the Superintendent to bring me home for a month. My father wrote to Judge Benton that he would like to take his daughter, Stella Benton, home with us. He took Stella with us and found a letter consenting when we reached Owego.
When my father went to Congress late in the fall, he took me with him so far as Bethlehem. Here I remained another year, when my father brought his two horse sleigh and driver, and I was taken home, where I remained until the fall of that year.
Transcription by Jane Gill
Recollections of
Mrs Harriet Gould Drake Tinkam: student, 1817