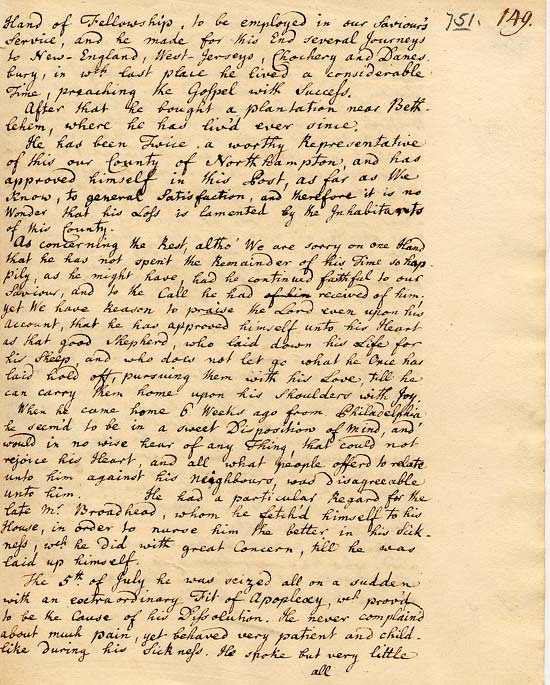 hand of fellowship, to be employed in our Saviour's service, and he made for this end several journeys to New-England, West-Jerseys, Chockery and Danesbury, in the last place he lived a considerable time, preaching the gospel with success.
After that he bought a plantation near Bethlehem, where he has lived ever since.
He has been twice a worthy representative of this county of Northhampton, and has approved himself in his post, as far as we know, to general satisfaction, and therefore it is no wonder that his loss is lamented by the inhabitants of this county.
As concerning the rest, altho' we are sorry on one hand that he has not spent the remainder of this time so happily, as he might have had he continued faithful to our Saviour, and the call he had often received of him; yet we have reason to praise the Lord even upon his account, that he has approved himself unto his heart as that good shepherd, who laid down his life for his sheep, and who does not let go what he once has laid hold oft pursuing them with his love, till he can carry them home upon his shoulders with joy.
When he came home 6 weeks ago from Philadelphia, he seemed to be in a sweet disposition of mind, and would in not wise hear of any thing, that could not rejoice his heart, and all what people offered to relate unto him against his neighbours, was disagreeable unto him. He had a particular regard for the late Mr. Broadhead, whom he fetched himself to his house, in order to nurse him the better in his sickness, which he did with great concern, till he was laid up himself.
He 5th of July he was seized all on a sudden with an extraordinary fit of apoplexy, which proved to be the cause of his dissolution. He never complained about much pain, yet behaved very patient and childlike during his sickness. He spoke but very little