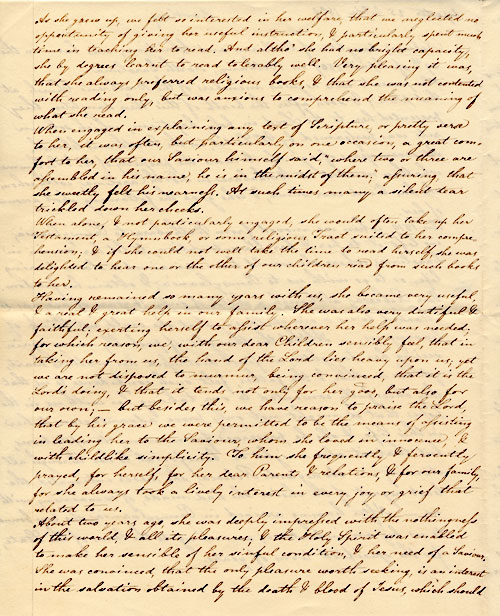 As she grew up, we felt so interested in her welfare, that we neglected no opportunity of giving her useful instruction, and particularly spent much time in teaching her to read. And altho' she had no bright capacity, she by degrees learnt to read tolerably well. Very pleasing it was, that she always preferred religious books, and that she was not contented with reading only, but was anxious to comprehend the meaning of what she read.
When engaged in explaining any text of Scripture, pretty verse to her, it was often, but particularly on one occasion, a great comfort to her, that our Saviour himself said, "where two or three are assembled in his name, he is in the midst of them;" assuring that she sweetly felt his nearness. At such times many a silent tear trickled down her cheeks.
When alone, and not particularly engaged, she would often take up her Testament, a hymnbook, or some religious tract suited to her comprehension; and if she could not well take the time to read herself, she was delighted to hear one or the other of our children read from such books to her.
Having remained so many years with us, she became very useful, and a real and great help in our family. She was also very dutiful and faithful; exerting herself to assist wherever her help was needed; for which reason, we, with our dear Children sensibly feel, that in taking her from us, the hand of the Lord lies heavy upon us; yet we are not disposed to murmur, being convinced, that it is the Lord's doing, and that it tends not only for her good, but also for our own; but besides this, we have reason to praise the Lord, that by his grace we were permitted to be the means of assisting in leading her to the Saviour, whom she loved in innocence, and with childlike simplicity. To him she frequently and fervently prayed for herself, for her dear parents and relations, and for our family, for she always took a lively interest in every joy or grief that related to us.
About two years, she was deeply impressed with the nothingness of this world, and all its pleasures; and the Holy Spirit was enabled to make her sensible of her sinful condition, and her need of a Saviour. She was convinced, that the only pleasure worth seeking, is an interest in salvation obtained by the death and blood of Jesus, which should